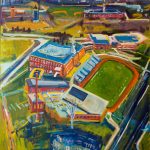 This painting of above Wilson is still available at $500.  It is 3′ x 4′, so can be a prominent piece in your home. (Photo: Judy Licht)


 Photos: Judy Licht
My figurative paintings have been in oil, acrylic, watercolor and range in size dramatically.
Here is a digital illustration I did of the inside of Wilson High School.
I did this illustration of my friend Emily and Eric's new house in Potomac.